Where were Chinese property investors looking to buy in 2016?
Propelled by rising property prices in China's domestic property market, burgeoning retirement planning boom with China's silver generation, and the fact that property is the most preferred asset class for Chinese, Chinese appetite for overseas property remained undaunted by various cooling measures imposed by various markets last year.
We share the top 10 countries and cities most in demand with Chinese real estate buyers on Juwai.com in 2016, and take a closer look at recent trends that drove Chinese property investors to the following locations.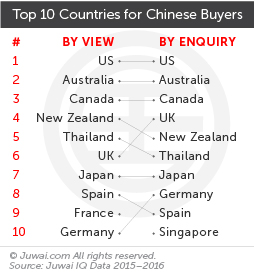 Top 10 hottest countries for Chinese buyers
The US continued its reign as the most viewed and enquired investment destination by Chinese buyers on Juwai.com last year.
And while Australia, Canada, and Japan held a solid grip on their respective spots, it's riveting to note how the other countries had varying positions on both lists. One clear example is the UK, which ranked sixth in terms of views yet placed fourth in terms of Chinese buyer enquiries.
France, which was the ninth most viewed country by Chinese homebuyers, didn't even make the cut on the second list. Instead, it was Singapore that crept into the list to become the tenth most enquired country last year.
Top 10 most-searched cities by Chinese
We break it down further, and offer a closer look at the ten cities most viewed by Chinese homebuyers in the following countries…